Support Your Local Makerspace!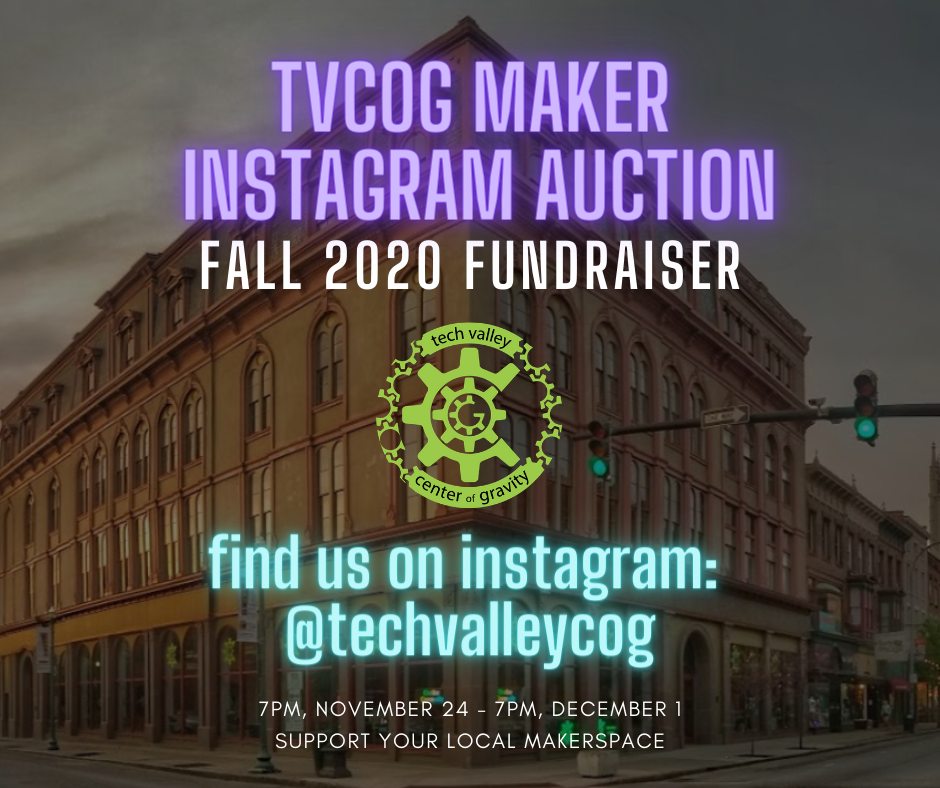 Support handmade for the holidays and invest in your community makerspace! From 7pm November 24th to 7pm December 1st, we will be hosting an online fundraiser of locally handmade goods on Tech Valley Center of Gravity's Instagram (@techvalleycog).
All proceeds will benefit the TVCOG, a 501(c)(3) community resource organization. Items are made and donated by our makers and members of our local creative communities.
If you would like to donate directly to TVCOG for our Fall Fundraiser, please click here.
Auction Rules
1) Handmade items donated for the auction will be posted on Instagram (@techvalleycog) beginning one week before the event. Comments will be closed during this preview period and will open when the bidding window starts.
2) Auction begins November 24th at 7pm and ends December 1 at 7pm. All times are EST.
3) To bid on an item, follow us at @techvalleycog, and post a Comment on the item's Instagram post, stating the amount of your bid and tagging the previous bidder. Bidders must be at least 18 years of age. Bids must be new Comments, not replies to old Comments.
4) The minimum bid is stated in each item's post, and the minimum increase in bid is $1 USD. Please bid generously and often, as 100% of the proceeds go to benefit our non-profit organization.
5) If you have the highest bid at the close of the auction, you win that item! Winning bidders will be notified via direct message on Instagram at the end of the auction. Please be prepared to donate your bid amount to the Tech Valley Center of Gravity by 7pm on December 3rd.
6) Winners must provide TVCoG with their full name and email address via either Instagram direct message or via email to This email address is being protected from spambots. You need JavaScript enabled to view it.. Secure payment links will be sent to the email address provided. If your donation is not remitted by 7pm on December 3rd, the next highest bidder will be contacted.
7) Once your donation is received, we will schedule a time with you to pick up your item(s) and tour the makerspace if desired. Shipping is not included in the winning bid, but can be arranged at cost. Pickup is preferred.
8) Each participant releases Instagram and acknowledges that this fundraiser is in no way sponsored, endorsed or administered by, or associated with, Instagram.

Please contact us via email at This email address is being protected from spambots. You need JavaScript enabled to view it. or via Instagram DM with any questions about the auction.
If you are interested in donating items to be auctioned off, please fill out the form here.