Quick Start Guide Series: Private Classes
Conquer your fear of power tools! The Quick Start Guide Series introduces beginners to using the equipment we have in our facility.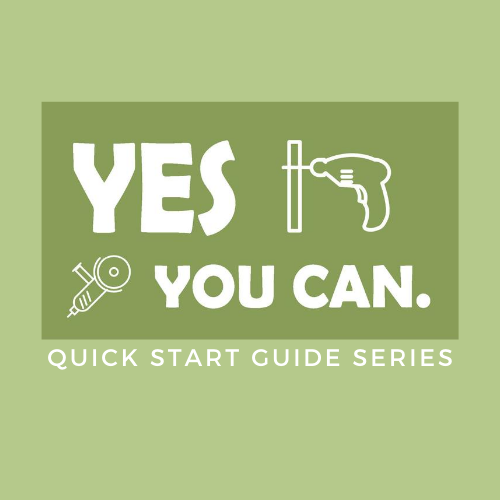 Never used power tools? You're not alone. Our Quick Start Guide class series helps beginners understand and use the basic equipment in our work zones. We have reformulated the series, and are now offering it as a one-on-one individual session available to COG members. There are 5 different Quick Start Guide sessions available to choose from, each covering a different essential piece of equipment. Each session is approximately one hour long, and includes hands-on experience. All classes are taught by our Facilities and Incubator Director, Dan Falkenstrom.
Please choose your session topic from the list provided below during the registration process.
Available Sessions:
Quick Start Guide 1: Cordless Drills (Metal Shop/Woodshop)
There's more than one way to drill a hole. This class will cover how to use battery powered hand drills, and how to choose between different drill bits (twist, spade, forstner, hole saw, stepper, etc).
Quick Start Guide 2: Angle Grinders (Metal Shop)
Cutting metal may seem like a daunting task. Angle grinders may be messy and loud, but they make the task easy! This class will cover how to cut, grind, polish, and sand metal.
Quick Start Guide 3: Cutting and Bending Sheet Metal (Metal Shop)
Sheet steel and aluminum may seem like daunting materials to work with. This class will show you how to cut straight lines on the shear and bend simple angles on the brake.
Quick Start Guide 4: Jointer & Planer (Woodshop)
The jointer and planer are used to make clean parallel and perpendicular edges on wood. This class will cover the basics of how to properly use each of these tools to transform wonky wood to exact dimensions.
Quick Start Guide 5: Table Saw (Woodshop)
The table saw is an essential tool for cutting wood sheets. This class will teach you the basics of table saw operation.
Class Fee: $40 CoG Members
No previous experience necesary. All materials included. Participants must be 18 +. Registration for all classes in this series closes 1 hour before the workshop begins.
As TVCOG is currently not open to the general public, these classes are only available for current COG members. Classes are limited to one participant at a time in order to maintain social distancing, and participants must wear a mask at all times. Participants may choose their topic of choice from the available list above. These measures have been put in place in accordance with our COVID-19 Safety Measures and the safety standards put in place by the New York State Governor's Office. If you have any questions about these policies, please email us at info@tvcog.net
When
October 29th, 2020 5:30 PM through 6:30 PM
Location
Tech Valley Center of Gravity




30 Third Street




Troy

,

NY

12180




United States