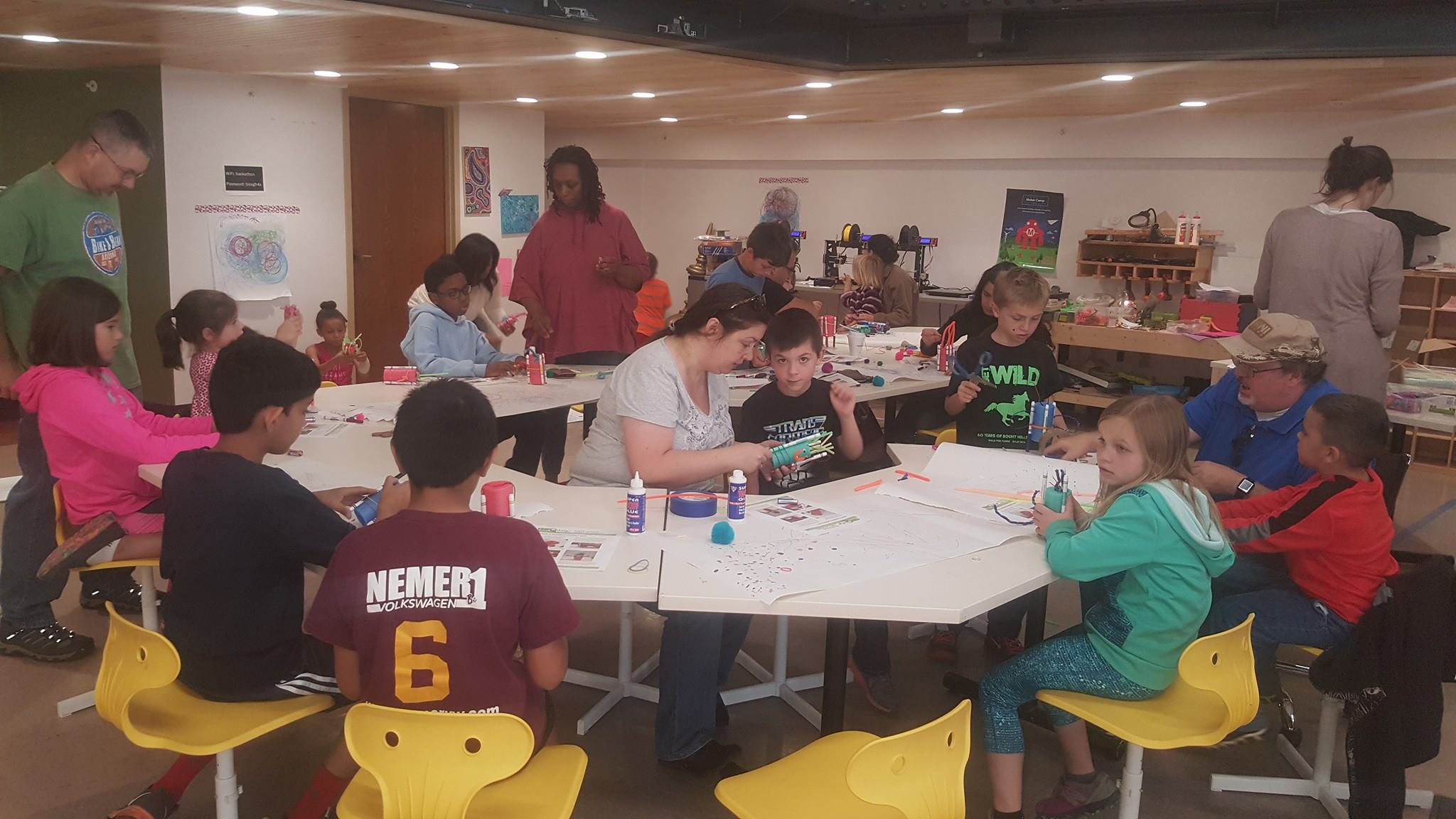 EVERY FIRST SATURDAY children ages 4-12 and their families are invited to join us for a FREE hands-on project. Brought to you through the generous support of Albany Society of Engineers Foundation, these mind-expanding projects help children discover creative play through science, technology, engineering, the arts and mathematics.
Past projects have included:
Make-Your-Own Kaleidescopes
Noodle Doodle Bots
Circuit Bugs
The Egg Drop Challenge
Paint Pendulums
Pixel Art
Magnetic Slime
To find out what is coming up next, visit our Calendar of Events or our THINQubator Facebook page.
Participation in STEAM-Powered Saturday activities is open to the general pubic and does not require advance registration. Children must be accompanied by an adult who will work with them on the project provided.
PLEASE NOTE: Due to COVID-19, We have moved STEAM-Powered Saturday to a virtual platform for the time being. Video tutorials and project guides will be posted on our THINQubator Facebook page at 12pm on the following dates, as well as on this page:
April 11- The Science of Rainbows
Click here for the project guide, and here for the video.
May 2- Kitchen Chemistry Pt. 1: Chromatography
Click here for the project guide, and here for the video.
July 4- Secret Spy Messages
Click here for the project guide, here for the decoder template, and here for the video.
August- Kitchen Chemistry Pt. 2: Ph Scale
Click here for the project guide, and here for the video.
September 5- Solar Oven S'mores
Click here for the project guide.
October 3- Pepper's Ghost Illusion
Click here for the project guide and here for the accompanying angles guide.
Coming November 14- Exploring Nature: Collecting Shells and Fossils*
Check out the worksheet here. The video will be uploaded on Facebook at noon on November 13.
Coming December 5- Spirographs
This project will have accompanying kits available for pickup at various locations in downtown Troy. Check back here to see participating locations.
Many thanks to our dedicated volunteers and our wonderful sponsors for helping us transition to a virtual platform!
Sponsored by:


Our virtual programming is brought to you with additional support from GE Healthcare and Agora Media.