We occupy the ground and first floors of The Quackenbush Building, originally the home of the G.V.S. Quackenbush & Co. Department Store (c. 1856). The floor-to-ceiling windows provide a light-filled workspace for co-working and Innovation Studios, 3D printing, laser cutting, electronics, model shop and fiber arts, as well as our Community Kitchen, board room, SEFCU Community Room and THINQubator, our children's makerspace. The lower level houses our woodshop, welding, machine shop, and The Prototyping Center.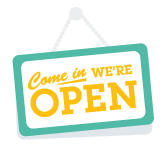 Our SEFCU Community Room, board room and Community Kitchen may be booked by members for free programs and meetups, or can be rented by outside parties. For information on space rental, contact us.
We invite you to visit us any Tuesday evening, when we open our doors to the public from 6:30 to 9:30 pm for Social Hour and tours of our facility. Come share a little pot luck, talk with members about how they use the facility and tell us what you are making. Click here for more information on Open House.