Tech Valley Center of Gravity is a limited access facility.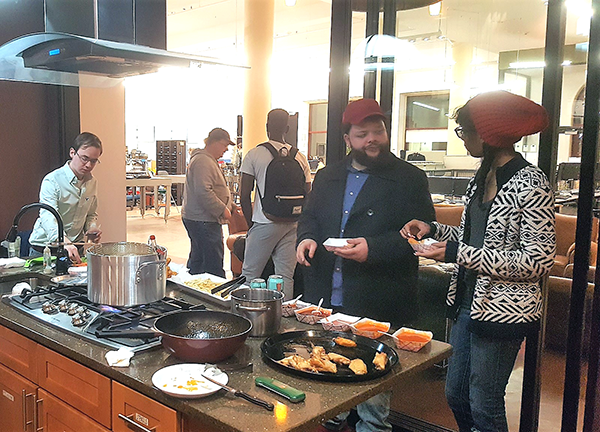 Additional Member Procedures During Covid-19
Currently all members must check in at the front desk to have their temperature recorded and to answer screening questions.
At the present, hours are limited to availability of staff and volunteers to log in members at the front desk. In August, membership hours will return to the hours defined by designated membership levels, however, members much check in for temperature logging and tracing at the front desk sometime during staffed hours.
Masks must be worn in the facility at all times. Guests are currently not permitted in the facility. To request a temporary waiver of the current guest policy, email This email address is being protected from spambots. You need JavaScript enabled to view it..
Open House Tours
Currently, we are not hosting open house tours due to safety precautions durring the pandemic.
We do have a virtual member meeting and social night every Tuesday from 6:30 to 8:30 pm.
We can give limited private tours to those wishing to become members. If you would like to arrange a tour at an alternative time, call us at 518-244-3544 or email This email address is being protected from spambots. You need JavaScript enabled to view it..

Current Office Hours
For staff and administration
Monday - Friday from 11:00 am to 7 pm.
Current Members Hours for July:
Monday, Wednesday, and Friday from 11:00 am to 10 pm

Tuesday, Thursday 11:00am to 7pm
Saturday and Sundy, 12:00pm to 8pm
In August 2020 hour:
Maker Members may access the facility
Monday - Friday from 5:30 to 10 pm
Saturday and Sunday from 10 am to 10 pm.

Super Maker members and Coworkers may access the facility 24/7.

THINQubator members may access the THINQubator with up to two children per adult member
Monday-Friday from 8 am to 8 pm and Saturday and Sunday from 10 am to 8 pm.

Associate members with a day pass may access the facilty between 10 am and 9 pm any day of the week.
Please note that the hours listed above are subject to change due to special events and at the determination of the board of directors. Changes in access hours are shared in advance with members via e-mail and are posted in the Facebook Group.