A children's makerspace and STEAM education center, located within Tech Valley Center of Gravity. Providing hands-on learning experiences in science, technology, engineering, the arts and math for families and youth.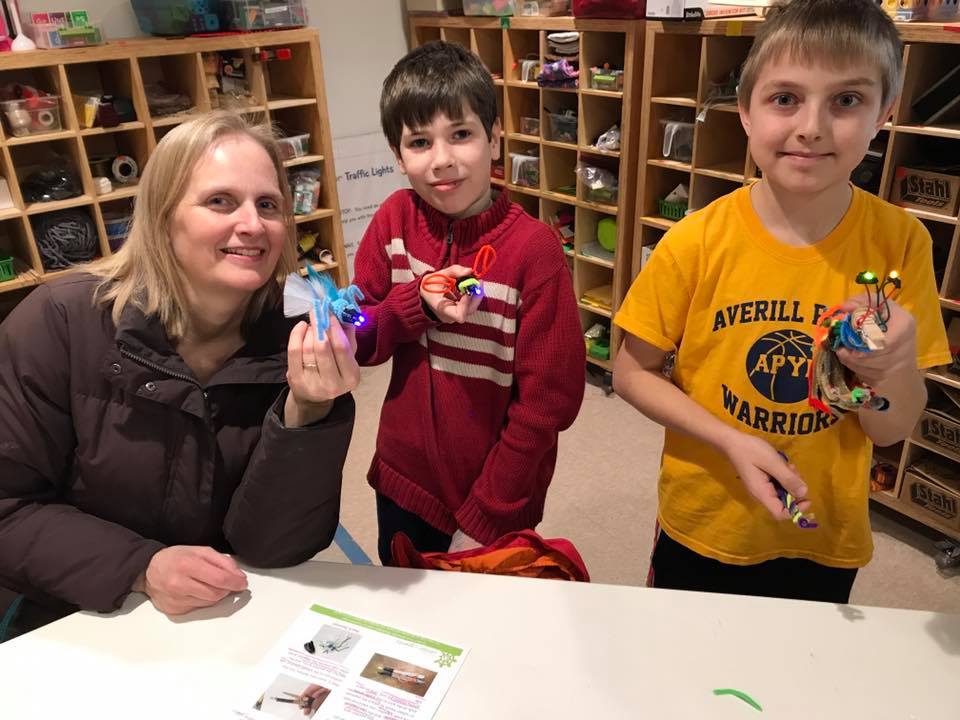 The THINQubator at Tech Valley Center of Gravity was one the first dedicated children's makerspaces in the world and is still one of the best outfitted. We empower kids and families to think, tinker, collaborate, skill-build, design and make. Through hands-on activity, kids deeply explore science, technology, engineering, art and math in engaging, fun exercises.
The THINQubator is home to STEAM-Powered Saturdays , our every-1st-Saturday drop-in program that invites children ages 4-12 and an accompanying adult to join us for a fun creative hands-on project like Noodle Doodle Bots, LED Bookmarks, Circuit Bugs, Pixel Art with Perler Beads and more. STEAM-Powered Saturday's free mind-expanding activities are made possible through the generous support of our friends at Albany Society of Engineers Foundation. To learn about each month's project, visit our events calendar or the THINQubator Facebook page.
The THINQubator also provides programs for school field trips, after school programs, clubs, scout troops, and other youth enrichment programs. And we occassionally take our programs out to groups that can't make it to our space in Troy. To learn more about ThinQubator programming contact oTVCOG's Programming Manager via email at This email address is being protected from spambots. You need JavaScript enabled to view it. or call us at 518-244-3544.
Where are you located? Where do I park?

We are located within Tech Valley Center of Gravity at 30 3rd St, in Troy NY. This is a private, locked facility: ring the doorbell for entry.We do not have designated parking for our facility, but street parking is free. Please note, street parking on Saturdays is limited due to the Troy Waterfront Farmers Market. We recommend parking in one of the municipal parking lots located within several blocks of our location, and walking over. Parking in these lots is free on Saturdays.

Do STEAM-Powered Saturday events last for three hours? Do I have to be there the whole time? Do I need to pre-register?

This is a drop-in workshop; families may stay for the whole time period, or pop in anytime from 10am-1pm. We recommend allocating a minimum of 30 minutes for the activity itself.
Parents are required to stay in the building with their children at all times. This is a family workshop, so everyone who comes should be ready to participate! Collaboration is part of the fun.
There is no pre-registration required.

Can I bring my toddler/baby/teenager to STEAM-Powered Saturday?

The workshops are geared towards children ages 4-12, but siblings of all ages are welcome in the space. Our bathroom is equipped with a changing table, and the THINQubator has a playpen with flooring for babies/toddlers.

I work with a school/homeschool group/after-school club/scout group. Could we schedule a private workshop or field trip? How much does that cost?

Yes! Workshops are available for any group that is interested; pricing varies depending on topic. We offer several workshops for a variety of ages, from Noodle Doodle Bots for grade school children to Robot Battles for high schoolers. Email

This email address is being protected from spambots. You need JavaScript enabled to view it.

to request a field trip guide.
We work hard to ensure that our programming is financially accessible, and work with schools and other organizations to ensure you can find a program that fits your budget. Financial aid is available for educational institutions with demonstrated need.
All schools located in Troy are eligible for financial aid.

Can we host a birthday party here?

Yes! You can arrange to host a STEAM-powered birthday party right here in the space. Learn more here. Please note, prices are for non-members only. TVCOG members may use the space at either a reduced cost or no cost, depending on event details.

Why do we have to check in everytime we visit the space?

Everyone who comes into TVCOG is required to check in, for insurance purposes. We are located within a Makerspace, which contains dangerous equipment and we require that everyone follow basic safety protocols. Check in is automated for TVCOG members.

Do you offer other workshops for children and families?

STEAM-Powered Saturday is currently our only regularly running public workshop for families and youth. THINQubator programming is focused primarily on partnerships and workshops with local schools and other organizations that support historically marginalized & financially disadvantaged youth. Our selection of programs offered to the public is limited; the THINQubator will occasionally host some public classes, like 3D printing for Kids, but most of TVCOG's public class offerings are for adults.

This place is great! Can my kids become members and use the space more regularly?

We do not offer memberships for children (under 18) or memberships just for access to the THINQubator. The THINQubator is just one of the many "zones" that the Makerspace is broken down into; all TVCOG members are welcome to use the THINQubator when it is not reserved for events, just like they would any other zone.
If your child is 12+ and interested in the equipment available on our first floor (electronics, laser cutter, 3D printing, fiber arts, model shop), you may reach out to us via

This email address is being protected from spambots. You need JavaScript enabled to view it.

to arrange a family membership. All family memberships must be managed by an adult (ages 18+) who stays in the facility with their child at all times. All equipment in the basement is limited to member ages 18+.
We are a community space, and plenty of our members do bring their kids into the space and use the THINQubator. To learn more about us and our community, we recommend visiting us during our weekly Tuesday night social nights (starting at 6:30pm) to take a tour and talk with other members. Email

This email address is being protected from spambots. You need JavaScript enabled to view it.

for more information.