TVCOG News!
Tech Valley Center of Gravity Announces 2019 Fall/Winter Class Schedule
TVCOG moves to trimester schedule, announces over 20 brand new classes!
Troy, NY –The Tech Valley Center of Gravity (TVCOG) is pleased to announce their first-ever trimester schedule with over 20 new classes in the makerspace, prototyping center, and children's steam education center.
During the 2019 Fall/Winter trimester new courses in woodworking, prototyping, crafting, jewelry-making, weaving, business development, game development, electronics, and laser cutting are available to the public. The THINQubator, TVCOG's kid makerspace located within the facility, is also hosting a variety of new classes that include family workshops, 3D printing, puppet making, design thinking, electronics, and coding.
New technical offerings include a two-part Fusion 360 CAD class offered through the TVCOG's prototyping center, instructed and developed by TVCOG board president Michael Lobsinger, who is also senior vice president of business growth solutions at the Center for Economic Growth (CEG). CEG is a longtime supporter and sponsor of the Center of Gravity and a championing organization for the growth of manufacturing in the Capital Region.
A special American Flag woodworking class in honor of Veteran's Day is being sponsored and instructed by Innovation Manufacturing Consultants (IMC) president, Thad Casey, a TVCOG board member and the engineer-in-residence at TVCOG's on-site New York State-certified Manufacturing Incubator Program. IMC will provide the equipment and supplies for the special class and will donate revenue from the class back to the Center of Gravity. Veterans will be able to take the class, offered on October 27 and November 2, at a reduced rate.
The Center of Gravity is also launching a "Quick Guide" series for would-be woodworkers. This quick guide series aims to demystify intimidating woodworking equipment via a deeper introduction to equipment use, maintenance, and safety precautions. Also new to the COG are two video game design crash courses, co-branded with the nonprofit organization, Tech Valley Game Space (TVGS).
Brand new classes for the Fall/Winter trimester include:
·QSG1 Quick Start Guide: Cordless Drills
·QSG2 Quick Start Guide: Angle Grinders
·QSG3 Quick Start Guide: Cutting/Bending Sheet Metal
·QSG4 Quick Start Guide: Jointer & Planer
·QSG5 Quick Start Guide: Table Saw
·Woodshop 100 (Kitchen 101): All About Sharpening
·Woodshop 202: Create a Shop Stool
·Woodshop 203: Create an American Flag
·Laser Cutter 201: Make a Dice Box
·Prototyping 101: Intro to Fusion 360, Course 1 UI & Collaboration Tools
·Prototyping 102: Intro to Fusion 360, Course 2 Modeling Basics, Sheet Metal, and Drawings
·Prototyping 101/102: Combined Courses 1 & 2 Fusion 360
·Electronics 101: Intro to Electronics
·Electronics 300: Intermediate Electronics: Build Your Own Arduino
·BusDev 100: Intro to Business Development
·BusDev 101: Intro to Marketing
·Craft 101: Silver Rings
·Craft102: Intro to Hand Stitching- Hand sewn Ornaments
·Craft 103: Intro to Needle Felting
·Craft104: Intro to Tapestry Weaving
·Craft105: Intro to Punch Needle Embroidery
·Craft201: Advanced Punch Needle Embroidery
·Craft202: Advanced Tapestry Weaving
·Glass Arts 202: Cloisonné Enameling
·TVGS 101: Crash Course in Godot 3
·TVGS 102: Crash Course in Unity
·THINQ101: Intro to 3D Printing for Kids
·THINQ103: E-Textiles, A Family Workshop
·THINQ107/TVGS Intro to Ren'Py
·THINQ108/TVGS Intro to Video Games with Construct 2
·THINQ105: Intro to Electronics, Soldering, and Circuitry (for teens)
·THINQ110: Design Thinking for Teens
The new trimester class system is a coordinated effort by the TVCOG to respond to expanded interest in STEM, trade careers, and product development startups in the Capital Region. Significant class discounts are offered for TVCOG and TVGS members. To register for a membership or a class, please visit www.tvcog.net.
In addition to the above offerings, the Tech Valley Center of Gravity is proud to launch the first-ever TVCOG First Lego League (FLL) Robotics Club. This club is aimed to support STEM learning for local nine to 14-year-old students who do not have a similar club available in school. The effort is led by TVCOG member volunteer coaches Ryan Morash, Kit Clemente, and Richard Lin, and is made possible by generous sponsorship from the NYSTEC, the AI Center of Excellence and Price Chopper's Golub Foundation. Companies interested in sponsoring the TVCOG FLL team can contact This email address is being protected from spambots. You need JavaScript enabled to view it. for more information.
Tech Valley Center of Gravity Announces New Executive Director
Cheryl Kennedy named executive director of the Capital Region's Premier Makerspace & Prototyping Center
Troy, NY –The board of directors for the Tech Valley Center of Gravity (TVCOG) is pleased to announce the appointment of Cheryl Kennedy as the organization's executive director. TVCOG is a makerspace, prototyping center, manufacturing incubator, STEAM-education center and creative community located in the heart of historic downtown Troy, New York.
"We're exceptionally pleased that Cheryl Kennedy is taking on the executive director role; she came on as interim executive director in March of this year to assist in the transition of the organization following Holly Cargill-Cramer's departure, and we've appreciated the dedication she has had to the organization. She has kept us moving in the right direction while we considered our next steps. Holly carried the vision and mission to a new level; her professionalism leaves the Tech Valley Center of Gravity with many successes to be celebrated. We are confident that Cheryl will build on the successes we've had with our recent expansion into prototyping and our manufacturing incubator, as well as moving forward board priorities for the makerspace—we want to diversify TVCOG's programming and educational options and focus on fundraising; she has the experience and energy to hit the ground running with those initiatives," said Michael Lobsinger, TVCOG's chairman of the board.
Kennedy's hire comes after four months of administrating the organization as interim executive director, succeeding Holly Cargill-Cramer who departed the organization to become a partner at Association Development Group, a strategic marketing and management firm located in Albany. Kennedy comes to the Center of Gravity with extensive experience in operations, economic development, grant writing, and fundraising at a time where the strategic focus of the makerspace is to grow membership and diversify revenue. "I am honored to have the opportunity to lead the Tech Valley Center of Gravity and to tell the story of this organization, which is beyond extraordinary. A makerspace and creative community are not just readily made with some empty space and equipment, while those qualities are important the reality of COG's success is driven by its members—and they are the most innovative, energetic, optimistic, and mentor-minded group of people I have ever met! They consistently use tech and maker innovation practices to engage with the world around them," said Cheryl Kennedy of the membership. For those in the Capital Region who haven't heard of the "maker movement" yet, or think that they aren't a maker-minded person, Kennedy encourages a visit to the space. "The Center of Gravity is for EVERYONE. Our membership community is diversifying and democratizing access to the tools and education needed to create and realize visionary ideas—the tools and knowledge that can help remake the future."
Cheryl Kennedy started her relationship with the Center of Gravity in 2016. As the former economic development coordinator for the City of Troy, she organized and funded two consecutive small business summits at the makerspace and was a coworking member of the facility. Since her start as interim executive director she has been working closely with staff, board, and volunteers to reorganize and boost educational offerings, as well as focus on revenue generation from programming, sponsorships, and grants.
Donor Provides Access for Rensselaer County Residents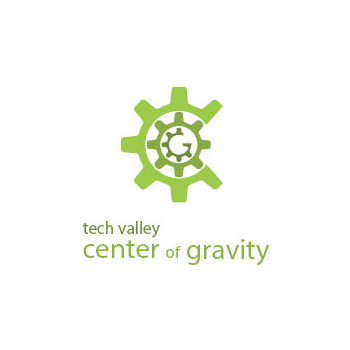 Thanks to an anonynous donor, the Center of Gravity is now able to provide access to membership, classes and programs for economically-challenged Rensselaer County residents. The donor provided $10,000 to seed the Tech Valley Center of Gravity's new Community Outreach Fund.
"We're incredibly grateful to this donor for providing this seed funding," said Executive Director Holly Cargill-Cramer. "In addition to helping us expand access, we hope this generous gift inspires others -- companies and individuals alike -- to consider making a gift that will open the creative and educational resources of the CoG to those who might not be able to afford a class or membership."
The TVCOG board of directors created the Community Outreach Fund in July 2017 to serve area individuals, families and community groups in need of free or reduced-cost memberships, programs, classes, services or space rentals. "Tech Valley Center of Gravity is a 501(c)(3) member-supported community resource charitable organization," said Cargill-Cramer. "We are here to serve the whole community. And, while our membership rates are very affordable for most, we provide tours for indivdiuals and talk to groups every week who we recognize are still unable to afford the fees associated with membership, classes, THINQubator workshops and room rentals. We established this fund to help ensure these resources are available to everyone."
According to Cargill-Cramer, while the Community Outreach Fund was established to assist individuals in need throughout the region, use of the anonymous donor's $10,000 gift is restricted to Rensselaer county-based residents and organizations. "We hope that this gift is a catalyst for other donors and organizations to expand assistance for individuals and groups from all around the region," said Cargill-Cramer. "Whenever we are approached by a person or group with limited means, we find a way to help. This gift allows us to help Rensselaer county residents without a significant economic burden on the Center of Gravity. We hope others will want to help us do the same with the broadest reach possible."
To learn more or donate to the Tech Valley Center of Gravity's Community Outreach Fund, visit the webpage, or contact Holly Cargill-Cramer at 518-244-3544 or This email address is being protected from spambots. You need JavaScript enabled to view it..