TVCOG News!
Bownes Honored at "Release" Party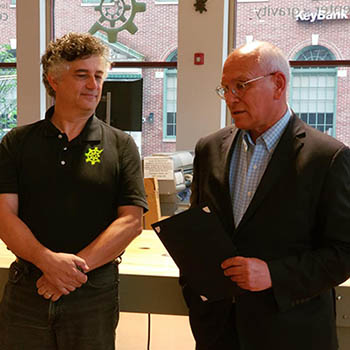 Congressman Tonko joined dozens of CoG members and friends on Saturday, August 11 in a salute to TVCOG co-founder and longtime Vice President Bob Bownes. The organization feted Bownes upon his retirement from over five years serving on its leadership team with a party celebrating his "Release" from responsibility (as opposed to actual bondage, although the actual difference might be debatable for Bob).
Bob Bownes first met with Laban Coblenz and Tom Tongue to discuss the idea of a makerspace in Troy on October 4, 2012. The organization was incorporated on Christmas Eve that year, and in one of its earliest board meetings, Bob Bownes was elected to serve as vice president of the operations team. It is a role in which he served until June 19, 2018.

Bob assisted in the start-up of the CoG in its first location, donating thousands of dollars of his own equipment to the new endeavor. The doors opened on February 9, 2013 and from the start Bob shouldered responsibility for member safety, facilities, and development of a system of business development services in conjunction with the executive director and president.

With the exponential growth of Tech Valley Center of Gravity in its first year, Bob managed safety and facilities at one location, while taking on a key role in planning for the renovation of the CoG's current space at 30 Third Street. The space, equipment and systems in the current CoG benefitted from hundreds, if not thousands, of hours of Bob Bownes' "sweat equity," as well as from his innovation, technical savvy and systems knowledge. Bob also helped develop an early business incubation program for the CoG called SPECTRVM, that provided start-ups with discounted services to assist them in their growth and development.

The extraordinary efforts of Bob and other founding and early members of the CoG provided a solid foundation on which to continue to build the Center of Gravity as a member and community resource and to position to become New York State's first 16v business incubator independent of a college or university. Since his early involvement, the organization now serves hundreds of members and serves as a strong anchor for the continued economic development of downtown Troy and the greater Tech Valley.
CoG, QUESTAR STEM Fellows Pilot Trades Exposure with YWCA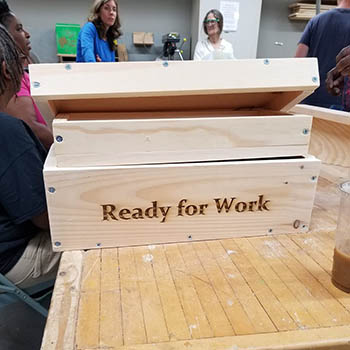 Questar III Summer STEM Fellows Kris Navratil and Janice Balogh piloted a two-week trades exposure program with clients from the YWCA of Greater Capital Region's Jamison Rounds Ready for Work Program during July. Navratil , a technology teacher from North Colonie School District developed the program in partnership with CoG Executive Director Holly Cargill-Crameri during last summer's STEM Fellowship program. Balogh, a math teacher from Maple Hill, is spendiing her Summer STEM Fellowship helping the CoG develop a Shop Math program. The three hope to use the two expose middle and high school youth to potential careers in the trades, and to build future workforce development programs.
In the pilot program with YWCA, five women experienced hands-on use of 3D printers, laser cutters, wood shop, metal shop and more through creation of their own tool/supplies box, which they personalize using the laser cutter. Our program participant, Grace, pictured at right, chose to make a statement with hers.
Balogh's participation in this summer's fellowship was made possible with the support of Workforce Development Institute. The followship has been allowng Navratil and Balogh to experiencing how what they teach every day is applied in real-world situtations.