The Capital Region is allowing phased reopening of businesses by select industry. We're excited to welcome our members back into the building, but we want to make sure we do so in a way that is safe and responsible. We are required and believe that it is safest to open to the membership in phases that coincide with industry designations set forth by New York State Forward Plan. We are currently in Phase 4 of reopening, as of July 1, 2020.

Members will self-select their use by industry. During the reopening phases the facility will be open under modified hours, under supervision of on-site staff, from Monday through Friday, 11am to 7pm, to allow for cleaning, temperature logging, and contact tracing. Members must make an appointment for the work zone they wish to use beforehand using the form here.

Please review the following safety pledge, which outlines the safety measures we are taking during this time.


Before entering the facility, COG Members must:
Understand that they are self-designating as eligible to work in the facility under industry designations set forth by New York State Forward Plan. (See link above)

Sign up for an appointment slot in order to use the work zone of my choice, using the link provided above.

Come to the facility with their own PPE. If members are unable to do so, they must email

This email address is being protected from spambots. You need JavaScript enabled to view it.

in order to inform staff ahead of time that they will need to borrow PPE. This includes both a face mask and PPE for machine use. Access to communal PPE (ear muffs, safety goggles etc.) will be limited, as TVCOG will adhere to a strict cleaning regimen.
Upon entering the facility, COG Members must:
Fob in upon entering, and continue to fob in and out of the TVCOG facility at any time when I pass a fob system (including when accessing the restrooms).

Consent to having their temperature checked upon entry, via a non-contact thermometer. If a member's temperature is 100.4 F or higher, they will not be permitted into the facility.

Wash their hands upon entering the facility, after the temperature check. Wear PPE that covers the nose & mouth at all times while in the facility.
While using the facility, COG Members must:
Maintain proper social distancing measures while in the building, and wear PPE at all times. There is a limit of 2 people per zone at a time, except for the Laser Cutter, which is limited to 1 person at a time.

Limit kitchen use; this includes no cooking and no dish use. Kitchen sinks and sanitation stations are still available.

Limit facility use to the work zones and times that have been reserved; the community room and SEFCU room are currently off limits.

Clean any equipment before use, with the cleaning materials provided by TVCOG.
Upon leaving the facility, COG Members must:
Thoroughly clean any and all machines used, as well as their general work area, using the cleaning materials provided by the COG before leaving.

Sign out via fob out on the way out of the building.
COVID-19 Contact Guidelines
Upon entering the facility, members will be asked to verbally confirm the following agreement regarding COVID-19 Contact. Members are expected to answer to the best of their knowledge, and will be asked to review the agreement at each time of entry. Members are also expected to follow the guidelines listed below if they do believe they have been exposed to COVID-19.
COVID-19 Contact Agreement:
Assessment responses must be reviewed every day and such review must be documented. Using your fob to enter and exit this building is considered a "No" answer to the following statements.
Have you had any of the following:
COVID-19 symptom in past 14 days?
Positive COVID-19 test in past 14 days?
Close contact with a confirmed or suspected COVID-19 case in past 14 days?
If you have answered Yes to any of the above statements, you will not be allowed to enter the facility. CDC guidance indicates that you should self-isolate for 14 days.
Guidelines for re-entry following possible exposure:
Members who came into contact with someone reporting illness will be asked to self-quarantine for 14 days before re-entry.

Anyone who learns they were exposed to COVID-19 after entering the facility should contact us via email at

This email address is being protected from spambots. You need JavaScript enabled to view it.

to inform us.
Non-Compliance Policy and Further Details
Members found out of compliance with any of these policies will be suspended until State procedures for pandemic are lifted. Membership payments will be paused during the time of suspension.
July 2020 Hours of Operation
Please see the calendar below for our open hours in July: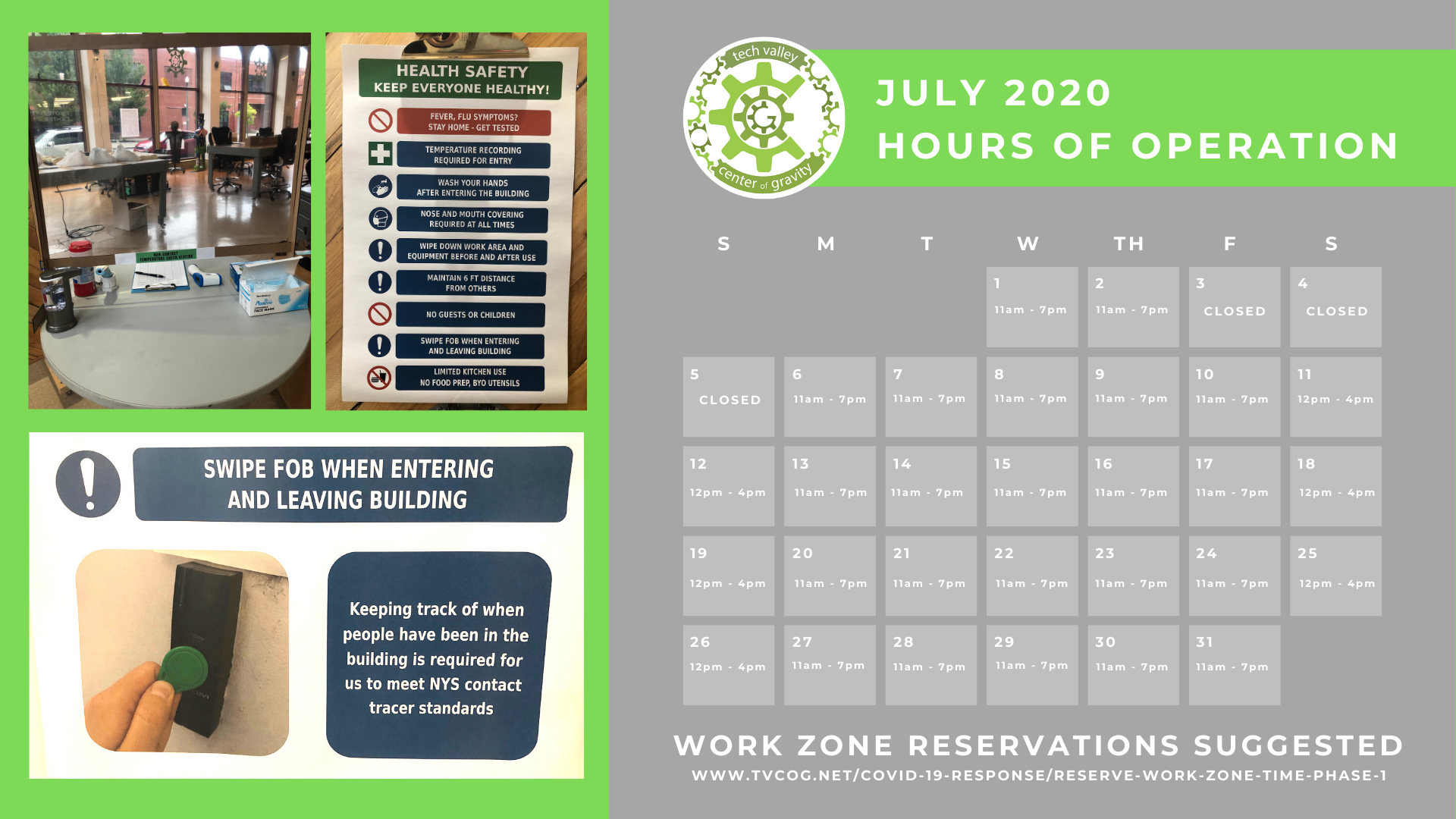 You can review the policies and procedures laid out by our reopening plan in more detail here. Please note that you must be signed in as a member in order to see the detailed reopening plan.