The Prototyping Center at the Tech Valley Center of Gravity provides affordable access to advanced equipment, hands-on training and manufacturing space for hardware start-ups and small businesses. It is set up to be especially accomodating of prototype iteration and short-run manufacturing. Lease-free rental space is available for storage of raw materials, tools, and finished product. The valuable equipment in this limited-access facility requires a higher level of skill in its use, and has a higher cost for consumables and operation. Therefore, users of this equipment pay for training and an hourly rate for use of each machine.

Prototyping Lets You:
Test your design to ensure it serves the intended purpose
Reduce design flaws, saving time and money
Model your product for potential investors
Create models for sales and customer demos
Access
Maker and Super Maker members who have completed equipment training:
Request access when staff is available to unlock the door (typically M/W/F 9-5, Tu/Th 11-7)
Prototyping Center Memberships receive priority on machine use
Prototyping Center Members who have completed equipment training:
24/7 access to the Prototyping Center room
Priority access to the equipment and space rental
25% discount on machine use rates
Three 72-hour Parking Passes for use of a bench, cart, or shared horizontal storage rack
Ability to reserve workbench space
Scheduled access to a 7ft x 12ft 6,000lb freight lift for load-in/load-out
Contact us for organizations needing access for multiple employees
Reserve access to the equipment using the equipment reservation calendar.
The Equipment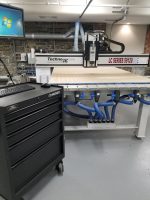 CNC GANTRY ROUTER
Techno LC59120 58″x121″
Machine Use ♦ $40 per hour (spindle on time)
Training ♦ $200 (5 Hours)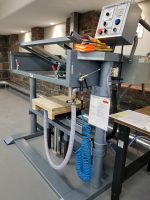 VACUUM FORMER
Belovac C Class 24″x48″
Machine Use ♦ $15 per hour
Training ♦ $10 (15 Mins)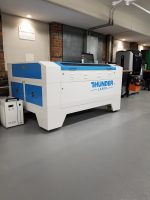 LASER CUTTER
Thunder Laser 130W 35″x51″
Machine Use ♦ $28 per hour (file run time)
Training ♦ $80 (2 Hours)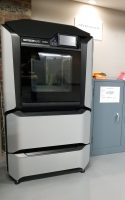 3D PRINTER
sponsored by CEG
Stratasys F270 12″x10″x12″
Machine Use ♦ See Separate Matrix
Training ♦ $40 (1 Hour)
Training
Since the value and repair cost of this equipment is higher, completion of equipment training is required to ensure all users are sufficiently skilled in each machine's operation. Class times are typical; training will be billed at $40 per hour if extra time is needed.
Contact This email address is being protected from spambots. You need JavaScript enabled to view it. to set up a training appointment.
Stratasys F270 3D Printer Training
$40 (1 Hour)
GrabCAD software signup and operation, loading/unloading filaments, changing print heads, basic troubleshooting, part cleaner operation.
Nova51 Laser Cutter Training
$80 (2 Hours) OR any Laser Cutter 100-level class (plus a 15-minute overview of machine-specific operations)
Basic vector drawing in Inkscape, Lightburn (laser control software) use for cutting and engraving, safety, machine operation, basic troubleshooting. Simple vector file provided by CoG or student (5 mins or less cut time).
Belovac Model C Vacuum Former Training
$10 (15 Minutes)
Safety, mold installation, machine operation. Does not cover mold design or material selection.
Techno CNC Router Training - Part I
$80 (2 Hours)
Basic CAD and CAM modeling in Fusion360.
Part I may be skipped if a CAM model is provided that meets the following:

One adaptive clearing tool path
One 2D contour tool path
Uses two tools from CoG library
exported G-Code with 15 min or less run time
Techno CNC Router Training - Part II
$120 (3 Hours)
Post-processing for Techno, tooling selection, feed/speed rate determination, material fixturing, safety, machine operation.