Tech Valley Center of Gravity's maker-in-residence (MIR) program was created with the intention of empowering makers and creators in our community.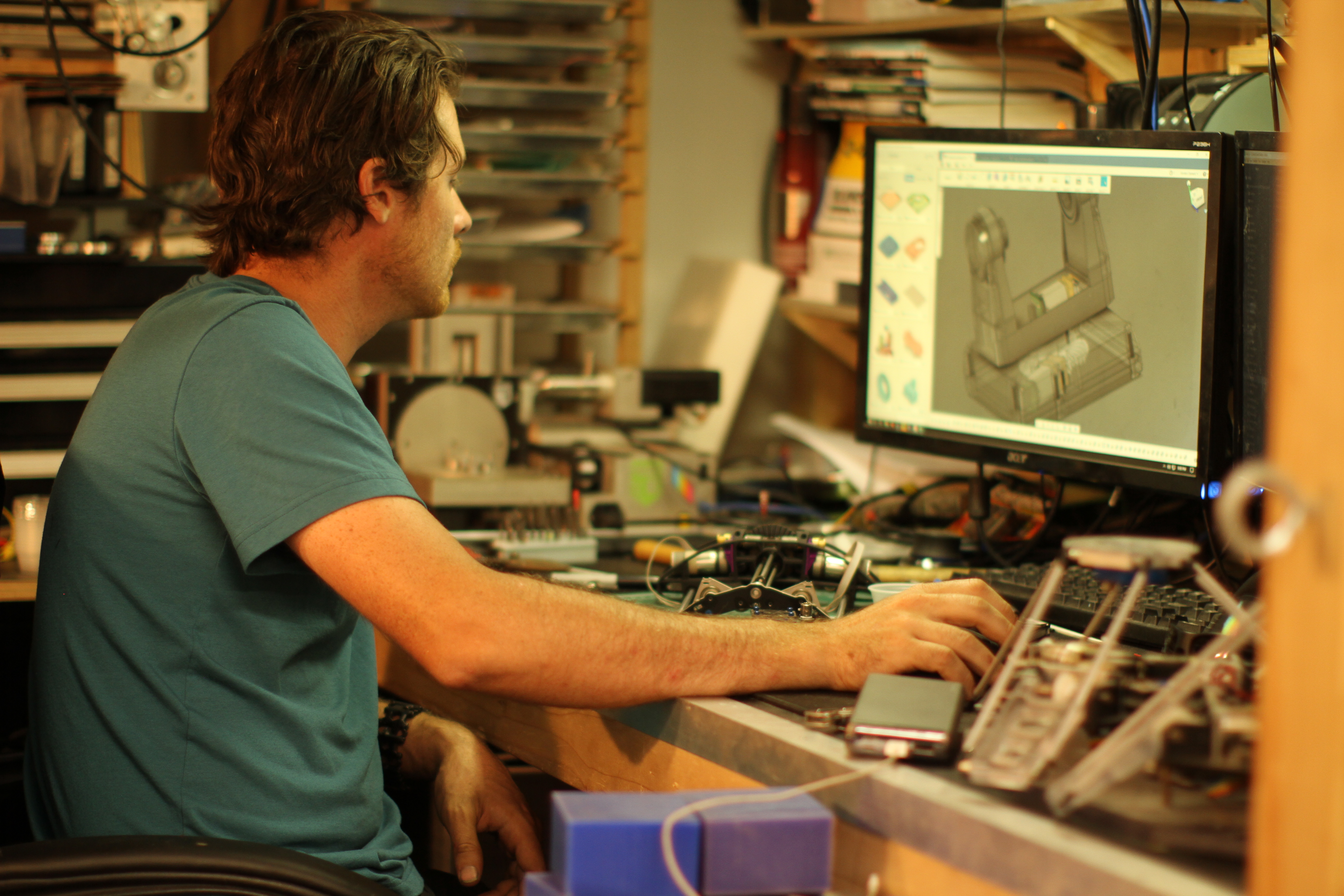 The program offers Troy-based makers the chance to pursue a project of their choice at the COG with dedicated space and resources, including a complimentary membership and small stipend.
This program is funded by our Community Access Fund which supports mission-critical initiatives related to access, equity, education, and volunteership. The Community Access Fund is made possible by grant funders, corporate sponsors, and individual donors. Please click here to donate to the Fund.
About the Program
Our MIR will be given the tools necessary to build their proposed project, including:
Dues-free Super Maker Membership for 3-6 months (depending on time needed to complete the proposed project)
24/7 access to the building (Please note, this may be subject to change as hours of access may be limited due to COVID-19 restrictions)
Access to equipment in all Zones (after safety orientation)
Free access to equipment in Prototyping Center for project creation (training costs not included)
Free 5'x 8' studio space to work on your project
A one-time stipend payment of $500
Limited technical support from CoG staff
Members-only rate for classes and equipment training
Networking opportunities with CoG members
During their time in the program, the MIR will be asked to fulfill the following duties:
Be an active member of the TVCOG community, and follow all guidelines set for members
Spend a minimum of 10 hours per week onsite at TVCOG working on their project and maintain a regular schedule
Provide weekly photographic and text updates regarding their project to be shared in social media
Complete a final project summary and end-of-project presentation event at the end of the program; the format of the summary and presentation event can vary, and will be decided on by the MIR and TVCOG staff
Please see the MIR Program Agreement for more details on the benefits and expectations associated with the program.
Join the Program Now!
We are currently accepting applications for the Fall 2020 MIR program! Please note that this residency program is only open to Troy residents whose taxable income in the last year was $39,526 or less. Applicants must be individuals; teams are not accepted. All applicants must be over the age of 18.
The ideal applicant is friendly, community-oriented, and passionate about making and innovation. We prefer that applicants have some prior experience in the mediums they want to use during their project construction, but we do not expect applicants to be experts; the program is open to all makers, from experienced mechanical engineers to beginning DIYers. Current TVCOG members are welcome and encouraged to apply to the program.
While the ideal project proposal will meet all of the ideals laid out by the rubric, we encourage applicants to submit projects even if they might not perfectly fit all categories. We want to see what your ideas are, and are open to any project that feels like a good fit for the program.
Applications are due by 5pm on September 15, 2020. The program start date is flexible, but the MIR is expected to begin sometime in either October or November 2020.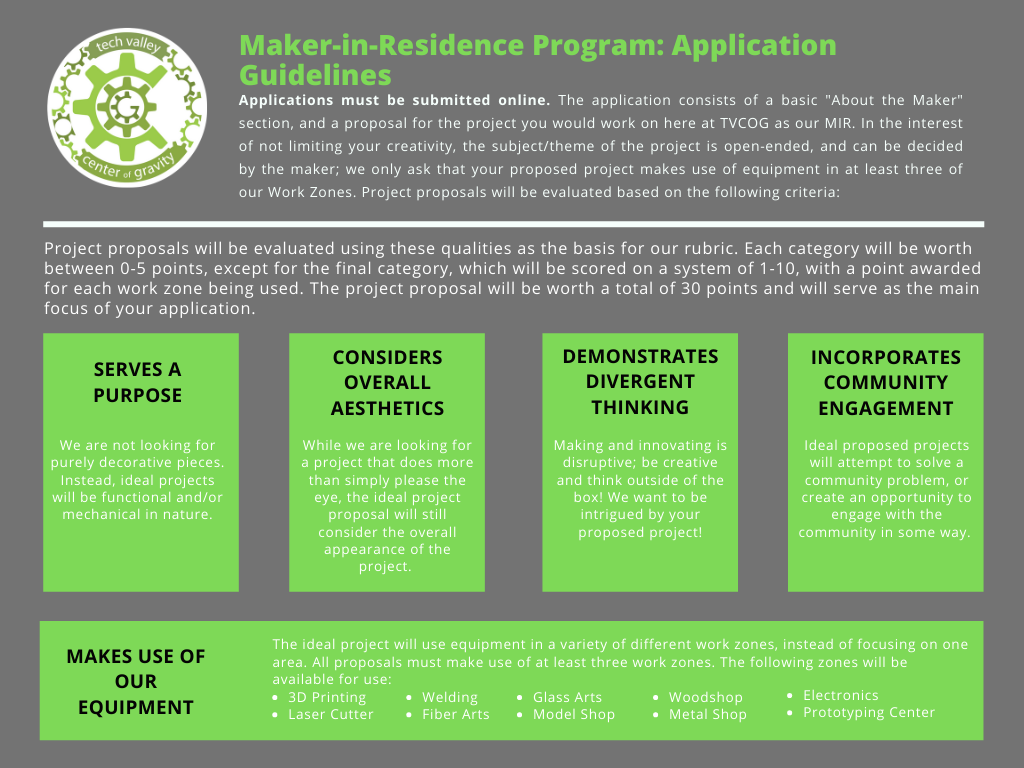 To learn more about the equipment we have available, please visit our Wiki here or email This email address is being protected from spambots. You need JavaScript enabled to view it. to schedule a tour.
Applications will be reviewed by the MIR Selection Committee, which consists of at least one of each of the following: a TVCOG member in good standing, a current TVCOG Board Member and a current TVCOG staff member. Applicants will be contacted regarding their application status via email by September 29. The MIR Selection Committee reserves the right to request a follow-up interview of any applicant, which can be conducted virtually or via phone call, if preferred.
If TVCOG decides that none of the proposals submitted fulfills the desired purpose of the residency program, it is not obligated to select an MIR.